This week's photo comes from an advertising campaign I shot a couple of years ago for the insurance company Performance Direct. It was piece of work that was born out my ethos of working for free to build relationships but that's another blog post…
The brief was to shoot a range of images to be used in adverts across a range of magazines, from prestige and classic to performance and modified. The lovely Hayley here was the face of classic insurance.
The whole shoot took place in a classic car club in east London, basically a large building filled with a vast array of amazing cars.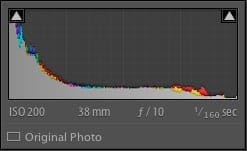 Definitely not a studio so in order to minimise clutter in the background of the shots I underexposed the ambient light by quite a bit. My sync speed of 1/160th (the 5D MKII would have managed 1/200th, but the cheap eBay triggers I used at the time were more reliable at 1/160th ) and f/10 did the job nicely without taxing the my pair of Elinchrom BRXi500's. In this case, the main light is camera right in a 50″ Westcott Apollo softbox and there's a gridded separation light coming from camera left to lift Hayley's dark hair and right shoulder off the background.
As you can see above, the shot I delivered to the client was left pretty much how it came out of the camera as they had a team of designers who would be working with the image. All I did was remove a few specular highlights from various bit of chrome trim on other cars off in the distance.
For my portfolio I wanted something a bit more striking so I dropped in a city skyline to finish the image off. Once the tones were matched, the trickiest part was distorting the image so everything looked in perspective. Here is my version of the final image.