I've known Michelle Westby from the car show scene for quite a while now but it wasn't until Autosport in January that we finally set a date to shoot together – part of my "Actions, not though" motto for 2011.
Unfortunately, the weather let us down a bit so a lot of our ideas were rained off but luckily I have a range of sheltered locations to call on. (In fact I can't recommend building up a notebook/online list/map of local locations enough).
By the time we'd finished fitness themed set at the first location the drizzle had begun to fall so it was time to head underground. Fortunately, we had parked under a road bridge that made a nice grungy background for something a bit more of a fashion look.
With the rain still falling it was time to move on and shoot Michelle in something a bit sexier in a location she'd specifically requested. Those of you that have been here for a while may recognise this location from my shoot with Georgia Graham.
As well as modelling and doing promo work, Michelle is a keen drifter so she brought her Nissan 200SX S14 for a bit of light painintg. One pub lunch and a car wash later, it was time to shoot the S14. Chelle had seen the light painted test shot I did of my car and wanted the same for hers but as it was still too light to get the long shutter speeds needed we did a quick rig shot. Wolfrace Wheels have kindly donated the wheels for this car so I wanted to keep them prominent in the shot by turning them away from the camera. As the Nissan is set up to drift, it has had its differential welded making it nigh on impossible to push in a circle so the engine had to be kept on. This meant getting a sharp shot at the shutter speed needed to give enough blur was trick. The location wasn't the most exciting either (a car park) but after a bit of Photoshoppry I am quite pleased with the result.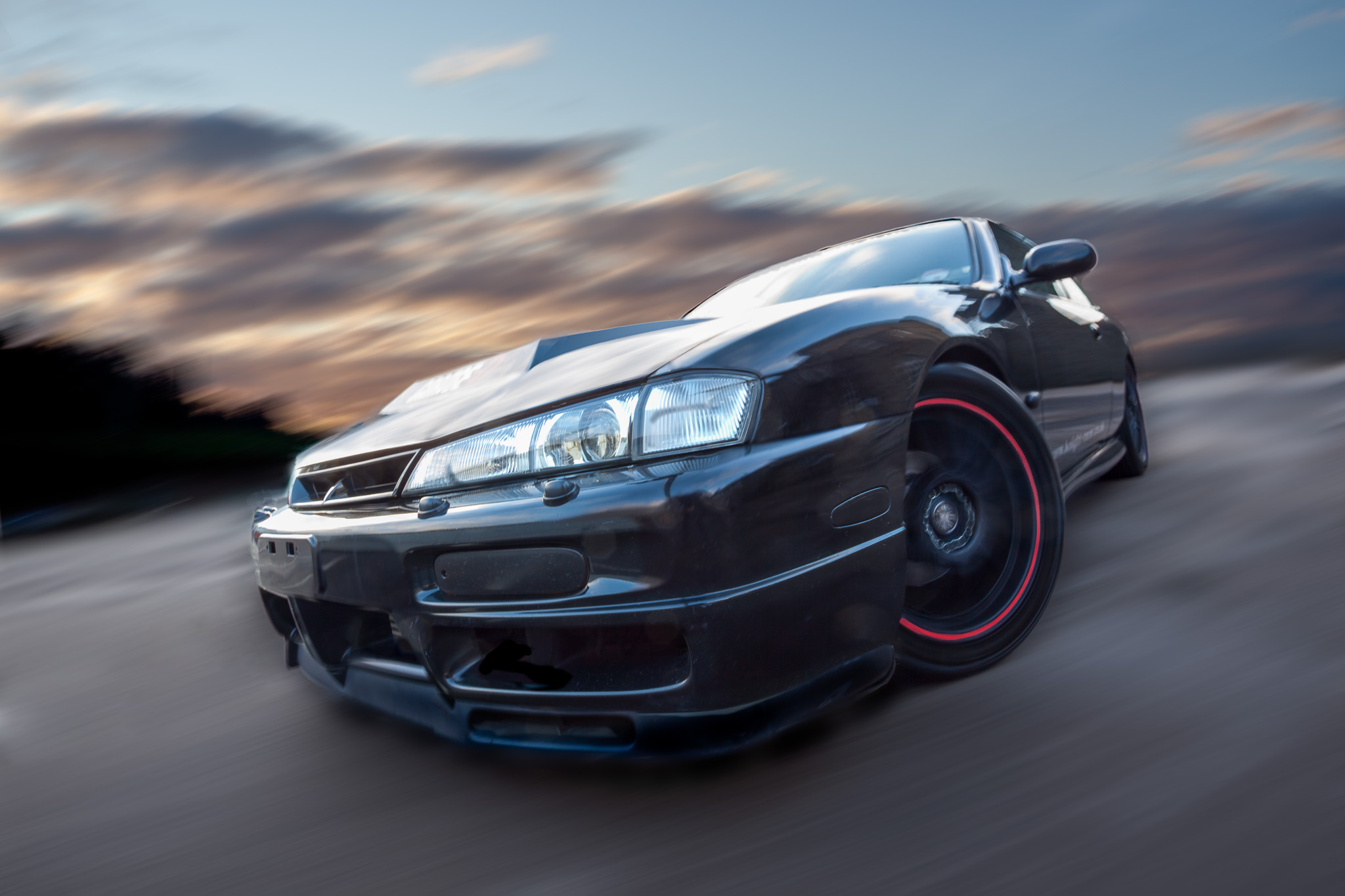 By now, the sun was fading fast so it was time to roll into the studio and set up the camera on a tripod. It's widely stated that shooting a black car is harder than any other colour and I can definitely verify that! Using the same technique, I shot my white car with just 3 exposures and 3 simple layers in Photoshop.
This was a little trickier! 12 layers and 10 layer masks so I could paint in certain parts of each image to get the right reflections on the bodywork.
I (and thankfully Michelle too, after driving all way way from the South East) think the results are worth it.